Thank you for visiting!
Please read the following information carefully. Your use of our website (hereinafter referred to as "PREPAREFIRST.ORG") indicates that you accept the terms of this agreement (hereinafter referred to as "Site Policies & Terms of Use").

Shipping Expense
With limited exceptions, all orders will be shipped for a flat fee of $7.95.
The few products which do not qualify for $7.95 shipping and which have higher shipping fees associated with them (typically due to unusual size and/or weight) are clearly indicated on our website on the informational page specific to those products.
Our standard flat fee shipping methods are FEDEX Smart Post, FEDEX Home Delivery, FEDEX Ground and USPS. At the time of purchase, you have the option of selecting either the standard flat fee method shown, or a different shipping method which may carry an additional charge (such as for expedited/overnight delivery).

Packaging
Items are packed together in one box to the extent possible. However, if your order requires multiple boxes, or if the order comprises items shipped from multiple locations such as drop-shipped by a manufacturer, all boxes may not arrive at the same time.
Shipping Timeframes & Methods
All items will be shipped on the day we receive your order or on the following day, unless we encounter an "out of stock" issue, in which case you will be notified via email and given an anticipated ship date. Certain other factors can cause shipping delays, such as incorrect or incomplete address information, payment processing issues, rural/remote delivery locations and weather/carrier issues. Items shipped directly from manufacturers may take longer to arrive. While we cannot guarantee any specific delivery timeframe, you should expect your item to arrive in a timely manner, and we invite you to contact us at any time to inquire about the status of your order. Items ordered with overnight or 2-day shipping should arrive within those timeframes provided the order is received prior to 3 PM EST on the day the shipment is requested. Upon submission of your order, you will receive one or more emails updating you on the status of your order and the shipment thereof. The following chart indicates the anticipated business day delivery timeframes you should expect when items are shipped to you using one of our free delivery methods: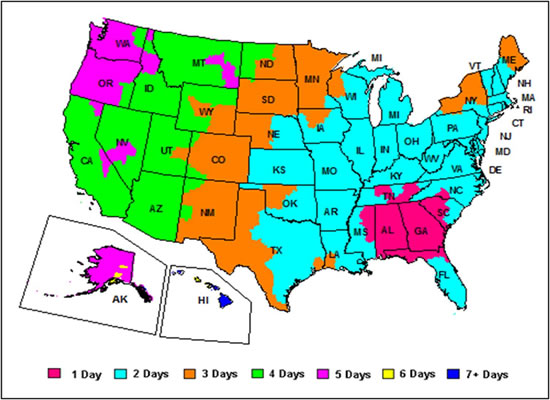 Orders received after 3:00 PM EST on a Friday or over a weekend will be processed on the following Monday.
Depending on the weight of your order and your desired delivery timeframe, you may choose among the following shipping methods which may be presented to you at the time of checkout:
FEDEX Ground® - see business day delivery timeframes in chart above
FEDEX Home Delivery® - see business day delivery timeframes in chart above
FEDEX Standard Overnight® - next business day delivery by 8:00 PM to most addresses
FEDEX Priority Overnight® - next business day delivery by 10:30 AM to most addresses
FEDEX 2Day® - delivery within 2 business days to most addresses
USPS First Class Mail® - delivery within 2-3 business days in most cases
USPS Priority Mail® - delivery within 1, 2 or 3 business days in most cases
USPS Priority Mail ExpressTM- next business day delivery in most cases
Order Verification
We may, in certain situations, require additional information from you prior to shipping your order. If so, we will contact you by phone or email to confirm information such as billing address, shipping address, credit card data, etc. If we do not receive the information we need within five (5) business days, we will cancel the order.
Order Tracking
Once your order has shipped, you will receive one or more emails from us indicating order status. You may also receive a tracking number to use on a particular carrier's website to track the status of your shipment.
Order Cancellation
Once your order has shipped, it cannot be cancelled. If the order has already been packed but not yet shipped, it may be cancelled but could be subject to a packing/re-stocking charge of up to $20.00. To cancel an order, please use our CONTACT US page to communicate with our customer service department.
Delivery
If you are away when the delivery comes, the carrier may, in the carrier's sole discretion, 1) leave the package(s) at your door, 2) leave the package(s) with another ostensibly trustworthy person such as a neighbor or building attendant, or 3) require a signature (in which case subsequent attempts will be made to deliver). If you do not see your package(s) when or where you expect, it is advisable to check the surrounding area thoroughly.
Undeliverable Orders
If we receive back a shipment resulting from 1) incomplete or incorrect shipping information, or 2) refusal of the shipment, you will be charged the cost of the shipment being returned to us as well as any re-delivery cost to you.
Shipping Outside the Continental U.S.
We currently only ship to addresses within the continental United States.
P.O. Boxes
We do not currently ship to Post Office Boxes.
Sales Tax
Sales tax is only applied on orders shipped to addresses within the State of Georgia. No sales tax is applied on orders shipped to other locations.

Your Satisfaction Is Guaranteed
If, for any reason, you are not completely satisfied with an item you have purchased, just follow our simple instructions to return the item to us for a refund.
Condition of Return Merchandise
To receive a refund, the item you are returning must be received back by us 1) in new and unused condition (and not expired, if applicable), and 2) in its original undamaged packaging complete with all product documentation and original padding materials. Any item received by us that does not satisfy the aforementioned conditions will not receive a refund and will not be returned to you.
Preparing Your Return Shipment
Simply follow these steps:
REQUEST AN RMA ("return merchandise authorization") code through our CONTACT US page. Please provide us with your order number when you contact us and let us know the reason for your return.
PRINT A RETURN LABEL (see button below) and fill in the information requested, including the aforementioned RMA code. No return will be accepted that does not have a valid RMA code visible on the return label.
PACK THE ITEM you are returning carefully. For any item we shipped to you inside a larger mailing box, you may re-use that box, or another box with packaging of appropriate size and type. Be sure to provide adequate padding around the item you are returning so that it will arrive without damage. This is particularly important if returning a product where loose parts inside the box can cause damage during transit and make the product impossible to re-sell.
SEAL THE BOX after placing a copy of your original packing slip or email confirmation showing your order number inside.
ATTACH THE RETURN LABEL to the box with clear tape securing the entirety of the label.
SHIP THE BOX TO US. Note: In order to keep our product pricing as low as possible, we do not cover the expense of any returns; all returns must be paid for by the shipper (i.e. you) and must be insured and tracked.
Return Timeframe

Provided you return any unwanted item within 45 days from the date of purchase, you will receive a refund of the purchase price less the actual cost we incurred in originally shipping the item to you, which cost may be greater than the fee charged to you at the time of purchase. You may return any unwanted item up to 90 days from the date of purchase; however, returns shipped to us AFTER 45 days from the date of purchase will be subject to a 20% restocking fee which will be deducted from your refund.
Item You Received In Damaged / Defective Condition
If any item we have shipped to you arrives damaged or in a defective condition, follow these instructions:
Defective Item - If the item appears to have an inherent manufacturing flaw, contact us and we will contact the product manufacturer on your behalf. We will assist you in stepping through the warranty procedure outlined in the manufacturer's product literature. Do not return the item to us. If you return a defective item to us, your return will be handled as a standard return, subject to the shipping cost reduction. Defective items addressed by the manufacturer are typically repaired or replaced free of charge.
Item Damaged in Shipping - Notify us immediately and we will file a claim with the carrier. Upon completion of the claim, the item will be replaced or refunded.
If you have questions or need assistance with regard to the foregoing, please use our CONTACT US page to communicate with our customer service department.

Information Security
Several areas of PREPAREFIRST.ORG are designed to collect and transmit information securely. This includes pages where credit card information is entered. On those pages, we use 128 bit SSL or higher encryption to protect your financial information. For your protection, WE DO NOT STORE YOUR CREDIT CARD DATA IN OUR SYSTEM.
Privacy Policy
Your privacy is very important to us. Accordingly, we want you to understand how we collect and use any information you submit through PREPAREFIRST.ORG. Before we collect any personal information, we will identify the purposes for which the information is being collected. We will collect and use any personal information you submit solely for the purposes specified by us and for other compatible purposes, unless we obtain your consent or as required by law. We will not collect personal information without your knowledge or consent. Submitting any information to PREPAREFIRST.ORG - be it personal data, reviews, comments, questions, etc. - is strictly voluntary, and by submitting any such information, you are giving PrepareFirst your permission and a perpetual license to use and/or modify the information for any lawful purpose whatsoever and in any manner. Any such information received by us shall be considered non-confidential, non-exclusive, irrevocable, royalty-free and non-proprietary. If you do not accept our Site Policies & Terms of Use, please do not provide us any information. If you choose to provide us with personal information by making a purchase, sending us an e-mail, registering for an event, or signing up for electronic communications, we will use that information to respond to your request. You agree that any information you submit to us will be lawful and accurate. You further agree that no information you submit to us will be obscene, objectionable, injurious, threatening or misleading as to the source thereof.
We will protect any personal information gathered by reasonable security safeguards against loss or theft, as well as unauthorized access, disclosure, copy, use or modification. However, due to the nature of electronic communications, we cannot and do not provide any representations, warranties or assurances that the information will not become known or accessible to third parties.
License to View
You are granted permission to view the information on PREPAREFIRST.ORG solely for personal, non-commercial purposes. This is the grant of a license, not a transfer of title, and under this license you may not:
use the materials for any commercial purpose, or for any public display (commercial or non-commercial);

copy or modify the materials;

attempt to decompile or reverse engineer any software code contained on PREPAREFIRST.ORG;

transfer the materials to another person or "mirror" the materials on any other server.
We reserve the right to terminate your access to PREPAREFIRST.ORG with or without notice, and you agree that we shall not be liable to any party in connection with such termination.
Intellectual Property
The materials contained in this web site are protected by applicable copyright and trademark law. The mark "PrepareFirst" and all textual descriptions, graphics, buttons, logos, etc. are part of our intellectual property and may not be used by you in any manner which 1) disparages our company or PREPAREFIRST.ORG, and/or 2) which creates the appearance of a relationship between you and us or any of the products available for purchase on PREPAREFIRST.ORG. No information or graphical data on PREPAREFIRST.ORG may be copied, posted or otherwise transmitted in any manner without our prior written authorization except to the extent that 1) you may view on a single computer and/or print one copy of our information or graphical data for your sole personal, non-commercial purposes, and 2) you do not modify the information or data or remove any marks or language indicating the proprietary nature thereof. Trademarks not owned by us which are displayed on PREPAREFIRST.ORG are the property of their owners, with whom we may or may not have a relationship. We also claim intellectual property rights in the unique organization, arrangement and presentation of product and categorical information on PREPAREFIRST.ORG.
Disclaimer
The materials and services on PREPAREFIRST.ORG are provided "as is." We make no warranty, expressed or implied, and hereby disclaim and negate all other warranties, including without limitation, implied warranties or conditions of merchantability, fitness for a particular purpose, or non-infringement of intellectual property or other violation of rights. Further, we do not warrant or make any representations concerning the accuracy, timeliness, completeness, validity, likely results, or reliability of the use of the content on PREPAREFIRST.ORG or any other websites linked to or from PREPAREFIRST.ORG. We may make changes to the content on our web site at any time without notice. Any material viewed, downloaded or obtained through the use of PREPAREFIRST.ORG is received at your own risk, and you are solely responsible for any damage to your computer system or loss of data that results from the download of any material or the use of PREPAREFIRST.ORG. You agree that nothing displayed on, or contained in, PREPAREFIRST.ORG constitutes an endorsement or a recommended prescription for a specific action or purchase. In no event shall we or our suppliers be liable for any damages (including, without limitation, damages for loss of data or profit, or due to business interruption,) arising out of the use or inability to use the materials on PREPAREFIRST.ORG or any product purchased by you from us, even if we or one of our authorized representatives has been notified orally or in writing of the possibility of such damage.
Unwanted Product(s)
You agree that if any product purchased by you from PREPAREFIRST.ORG fails to comport with its description on the website and/or fails to meet your needs, your sole remedy is to promptly follow the guidelines of our return policy as described herein under "Returns."
Links to/from Other Websites & Technologies
PREPAREFIRST.ORG contains links to other websites. We provide these links as a service to our users. We have not reviewed the sites we provide links to and are not responsible for the content of any such linked site. The presence of a link is not an endorsement of the site. If you follow a link to an outside website, you are leaving PREPAREFIRST.ORG and are subject to the privacy and security policies of the owners/sponsors of the outside website(s). We are not responsible for the information collection practices of other sites. Use of any such linked web site is at your own risk.
You may not link to, or re-post or re-display any content from, PREPAREFIRST.ORG without our express prior written consent with the following exception: we hereby grant you a limited, nonexclusive and revocable right to establish a hyperlink to the home page of PREPAREFIRST.ORG provided such hyperlink does not 1) portray PREPAREFIRST.ORG in any offensive, untrue or misleading way, and/or 2) create the impression of a relationship with you or any website, products or services not approved by us in writing in advance.
You agree that, unless we specifically agree in writing in advance, you will not to use the words "PREPAREFIRST" "PREPARE FIRST" "PREPAREFIRST.ORG" "WWW.PREPAREFIRST.ORG" "WWW.PREPAREFIRST.COM" or "PREPAREFIRST.COM" or any other words directly identifying PREPAREFIRST.ORG or our company in any meta tags, online advertising campaigns, or hidden website text which could be used by Internet search engines or similar technologies to locate, select or display websites.
With the exception of personal, non-commercial use of an Internet web browser or similar technology for purposes of viewing information on PREPAREFIRST.ORG and/or making purchases of products, you agree not to use any technology whatsoever to access or interact with PREPAREFIRST.ORG or computer system(s) for the purpose of gathering, downloading or transmitting any product or price information to or from PREPAREFIRST.ORG or our computer system(s). You agree that you will not use any manual or automated technology to copy content from, or monitor, any product information and/or pricing on PREPAREFIRST.ORG.
You agree that you will not take any action or use any technology which would serve to interfere with the functionality of PREPAREFIRST.ORG or any transactions taking place thereon.
Indemnification
You agree to hold PrepareFirst, Inc. and its officers, directors, employees, shareholders, affiliates and other related parties harmless from any claims or demand, including but not limited to attorney's fees and damages, made by third parties arising out of your use of PREPAREFIRST.ORG, your purchase of products from us, or your violation of the terms hereof.
Updates and Changes
We reserve the right to change or modify our Site Policies & Terms of Use at any time by posting such change or modification to this website. Any such change or modification shall be effective immediately upon posting. By using this web site you are agreeing to be bound by the then current version of our Site Policies & Terms of Use.
Resolving Conflicts
With the exception of any actual or threatened violation of our intellectual property rights, which we may choose to remedy via relief in any state court or federal court located in Georgia (to whose jurisdiction and exclusive venue you consent to), you agree that any and all unresolved disputes between you and us arising out of your use of PREPAREFIRST.ORG or your purchase of products from us shall be submitted to arbitration on a confidential basis in the state of Georgia. Said arbitration shall be performed under the concurrent rules of the American Arbitration Association, and the award of the arbitrator in any such matter shall be binding upon both parties and may be entered as a judgment in any court of competent jurisdiction. No arbitration hereunder in which you are involved may be joined to an arbitration involving any other party, whether intended as a matter of class action or otherwise.
Governing Law
Any claim relating to PREPAREFIRST.ORG shall be governed by the laws of the State of Georgia without regard to its conflict of law provisions. If any part of our Site Policies & Terms of Use shall be deemed unlawful, unenforceable or void, that portion hereof shall be considered severable and shall not affect the enforceability of the remaining content hereof.
Communication
If you have any questions about PREPAREFIRST.ORG or these Site Policies & Terms of Use, use our CONTACT US page to communicate with our customer service department.
Thank you for shopping with us!!