Product Details
Infant Sleep Safety Mattress

SKU: FN126005
Overview
Parents face a difficult choice when it comes to crib safety. On the one hand, it is well-known that to reduce the risk of SIDS (Sudden Infant Death Syndrome) one should place a healthy sleeping baby on his or her back to sleep. On the other hand, doing so may lead to Plagiocephaly (flat head syndrome).
Fortunately, parents no longer have to worry about their baby sleeping in a supine position when using a Lifenest. The physician-designed Lifenest Mattress Topper helps prevent plagiocephaly in two key ways:
1) Unlike firm mattresses, which can apply damaging pressure, the Lifenest mattress topper's innovative hammock gently cradles a newborn's malleable skull, and
2) On a Lifenest, the contact surface for a baby's head is up to four times larger compared to a normal baby bed mattress. This redistributes pressure away from soft spots and helps relieve critical pressure on a baby's head.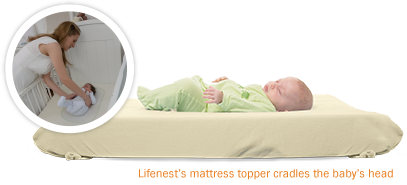 Lifenest and Lifenest fitted sheets are Greenguard Gold certified.
Both the Lifenest and Lifenest fitted sheets are BPA-free, phthalate-free and lead-free, as verified by SGS Laboratories.
Lifenest is fire-protected without the addition of harmful chemicals.
Breathable Lifenest fitted sheets are specially designed to work with the Lifenest mattress topper.
*Four corner straps secure Lifenest's fitted sheet to crib slats.
Lifenest's Award-Winning updated design and helps prevent flat head syndrome.

Naturally maintains babies in a comfortable back sleeping position.

Hammock design provides crucial airflow and breathability to a newborn's sleeping area.

Soft mesh technology allows a baby to breathe easily through the netting if he or she rolls over.

Liquids and secretions pass right through the netting to help avoid any potentially dangerous airflow blockages.

Venting channels quickly eliminate the CO2 a baby breathes out for better oxygenation.

Lifenest's unique woven cradle contours to the shape of a baby's head to avoid damaging pressure.

Promotes relaxation and better sleep by allowing unrestricted movements.

Reduces overheating and sweating.

Comfortable and supportive netting allows a baby's head to move freely.
During supervised "Tummy Time," the baby may breathe through the netting.
Lifenest is a medical device that is FDA listed and registered in Canada, Australia, Russia and Europe
SUMMARY OF PLAGIOCEPHALY
In recent years, pediatricians have seen a significant increase in the number of children with cranial asymmetry, particularly unilateral flattening of the back of the head (occiput).
This increase is likely attributable to parents following the American Academy of Pediatrics "Back-to-Sleep" positioning recommendations aimed at decreasing the risk of SIDS (Sudden Infant Death Syndrome).
Positional plagiocephaly is a disorder in which the back or one side of an infant's head is flattened, caused by repeated pressure to one side of the back of the soft infant skull.
Even though flat head syndrome was considered to be a purely aesthetic problem in the past, a recent case-control study led by Matthew L. Speltz, PhD at the Seattle Children's Hospital found that the infants with plagiocephaly had significantly lower scores on neurodevelopmental tests.
Congenital hip dysplasia, congenital scoliosis and congenital torticollis are all strongly associated with deformational plagiocephaly.
46.7% of all babies are affected by Flat Head Syndrome, according to a Canadian study.
Deformational plagiocephaly produces an undesirable effect on a baby's aesthetic appearance. Flat head syndrome not only lead to distortion of the skull shape, but sometimes also facial asymmetry, often with little hair growing in the flattened area. In severe plagiocephaly cases:

One eye appears larger than the other.
The ear on the flattened side is pushed forward more than the other side.
Eye alignment varies.
One cheek appears fuller than the other.

It is important to discuss your baby's head shape at each checkup.
Techniques for repositioning include supervised "Tummy Time," switching the direction that your baby lies in the crib, and changing the location of the baby's crib.
GREENGUARD CERTIFICATION
UL Environment's GREENGUARD Certification program helps manufacturers create and helps buyers identify and trust interior products and materials that have low chemical emissions, improving the quality of the air in which the products are used. All certified products must meet stringent emissions standards based on established chemical exposure criteria. By using products bearing the GREENGUARD Gold Certification mark, parents can rest easy knowing these products have been independently tested and verified to meet strict emission levels of pollutants, such as volatile organic compounds (VOCs), formaldehyde and phthalates.

301 Moved Permanently
---
nginx
Reviews
Add Your Review
Currently there are no reviews for this product. Share your opinion with others, be the first to write a review.
Add Your Review